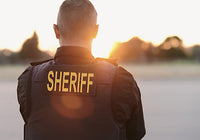 With every purchase...
of NCSA merchandise you will contribute to the training, education, and support the NCSA provides to every sheriff and their personnel in North Carolina.
Your purchase will also go to help secure the next generation of responsible and dependable law enforcement professionals. The North Carolina Sheriffs' Association offers up to 38 scholarships every year to criminal justice students enrolled in the University of North Carolina system and to students enrolled in one of North Carolina's independent and private colleges and universities.

Thank you again for your support of the sheriffs of North Carolina.